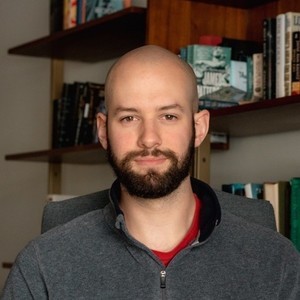 Jordan Myers
Host of Plato's Cave
Hello, my name is Jordan and I'm the host of this show. I graduated the University of Pittsburgh in 2019 with a degree in engineering and a minor in philosophy and now I'm preparing to hopefully return to academia as a PhD student. This podcast is one way in which I'll keep my philosophical skills sharp and try to soak up all the wisdom I can from the best people in the field.
Jordan Myers has hosted 66 Episodes.
March 14th, 2020 | 2 hrs 8 mins

cave, cultural relativism, dirty, ethics, grad school, graduate, history, imperialism, moral relativism, phd, philosophy, plato, plato's cave, podcast, random history topics, rhetoric in history, that's bs, thats bs

In this episode of Plato's Cave, I invite on Adam from That's BS and two guests from the Dirty History Podcast, Thomas and Woodrow. We talked about WWI and WWII, Imperialism, Rhetoric in history, Random history topics, Moral relativism, and Ethics in history. This was an amazing podcast to record and I hope you like it as well.

March 2nd, 2020 | 38 mins 29 secs

allegory, camel, cave, child, enlightenment, friedrich nietzsche, grad school, graduate, lion, nietzsche, overman, phd, philosophy, plato, plato's cave, society, the republic, truth, ubermensch, values

In this episode of Plato's Cave, I unpack The Allegory of the Cave from Plato's Republic and Thus Spoke Zarathustra from Friedrich Nietzsche and use both works to explain what I'm hoping to accomplish with this podcast.