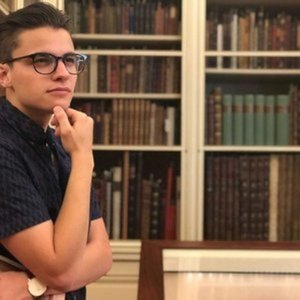 Thomas Thompson (Dirty History Podcast)
Special guest
Thomas is a History and Education major who runs a podcast called The Dirty History Podcast. It is excellent and fully reccomended by me!
Dirty History Podcast:
https://www.dirtyhistorypod.com/
Thomas Thompson (Dirty History Podcast) has been a guest on 1 episode.
March 14th, 2020 | 2 hrs 8 mins

cave, cultural relativism, dirty, ethics, grad school, graduate, history, imperialism, moral relativism, phd, philosophy, plato, plato's cave, podcast, random history topics, rhetoric in history, that's bs, thats bs

In this episode of Plato's Cave, I invite on Adam from That's BS and two guests from the Dirty History Podcast, Thomas and Woodrow. We talked about WWI and WWII, Imperialism, Rhetoric in history, Random history topics, Moral relativism, and Ethics in history. This was an amazing podcast to record and I hope you like it as well.