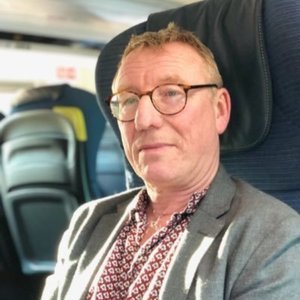 Brandon Robshaw
Special guest
I have published 26 children's novels and over 60 educational books. My most recent children's novel, The Big Wish, was published by Chicken House on 2nd April 2015. It was shortlisted for the James Reckitt Hull Children's Book Award 2016. My collection of children's poems, These Are a Few of my Scariest Things, was published by the King's England Press on 31st October 2017. My YA novel, The Infinite Powers of Adam Gowers, was published by Unbound on 24 July 2018.
My latest book is an academic monograph in the field of political philosophy, Should a Liberal State Ban the Burqa?, published by Bloomsbury on 11 June 2020.
I am also a free lance journalist. I lecture in Creative Writing, Children's Literature, and Philosophy for the Open University, and Writing for Children for Westminster University. I have a degree in English Literature and a PhD in Philosophy. I enjoy running; I sing in a pub choir, play the ukulele a little bit and the piano an even littler bit. I live in Walthamstow, East London, with my wife, three children and dog.
Brandon Robshaw has been a guest on 1 episode.
September 4th, 2020 | 55 mins 13 secs

ban, brandon, burqa, cave, eternal, eternity, europe, grad school, graduate, infinity, islam, jordan, liberal, loop, muckraker media, myers, nietzsche, now, phd, philosophy, plato, plato's cave, political, recurrence, reincarnation, robshaw, should, state

In this episode, I speak with Dr. Brandon Robshaw about his recent piece in Philosophy Now on Nietzsche's Eternal Recurrence. We also discuss his new book, 'Should a Liberal State Ban the Burqa?' (The short answer is no.)