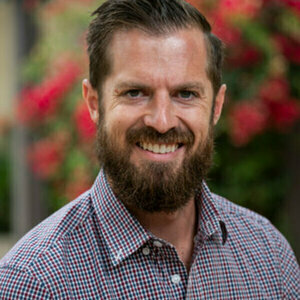 Garrett Pendergraft
Special guest
Garrett Pendergraft earned a BS in Computer Science at the University of Southern California and enjoyed a (short) career in visual effects before returning to school to study philosophy. He earned an MA from Biola University, an MA from the University of Missouri, and a PhD from the University of California, Riverside. Most of his research focuses on the metaphysics of agency, and he is particularly interested in arguing that we can have free will, and be morally responsible, even in the face of various apparent threats to our agency: causal determinism, divine foreknowledge, and situationism in psychology. In the classroom, he enjoys experimenting with new teaching methods and strategies, such as mastery learning. He has served in leadership positions in both the American Philosophical Association (Pacific Division) and the Society of Christian Philosophers (Mountain-Pacific Region), and he is currently the Vice-Chair of the Board of Trustees of Calvary Christian School in Pacific Palisades. Most of his spare time is spent hanging out with his wife and some combination of his three kids.
Garrett Pendergraft has been a guest on 1 episode.
June 28th, 2022 | 1 hr 12 mins

50, agency, borges, cave, chance, decision, deliberation, divine, ethics, experiment, fate, forking, forknowledge, free, garden, garrett, god, grad school, graduate, infallible, interview, jordan, moral, myers, omnipotence, omniscient, paradoxes, paths, pendergraft, pepperdine, phd, philosophy, plato, plato's cave, puzzle, responsibility, routledge, thought, uncertainty, university of houston, will

In this episode, I speak with Garrett Pendergraft about his forthcoming book: FREE WILL AND HUMAN AGENCY: 50 PUZZLES, PARADOXES, AND THOUGHT EXPERIMENTS, which will be out in July 2022! We discuss three chapters on the Garden of Forking Paths, Uncertainty and Deliberation, and Divine Foreknowledge.